Johanna "Jodi" Mitchell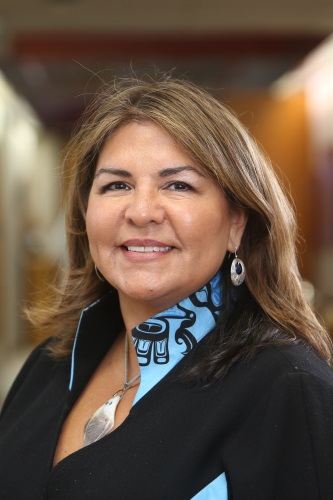 Jodi's Proxy Statement
My mother was the Late Eleanor John-David, who, like her parents, was born and raised in Angoon. Eleanor was a strong shareholder advocate. She fought to help independent candidates get elected because she knew Sealaska needed educated, experienced board members to put shareholders and their well-being first. She made sure I got a college degree in business administration, determined to make me the best I could be.

When I began serving on the Board my mother continued to coach me, reminding me that our job is to make money, hold up our culture and provide benefits for shareholders. Momma passed away in 2012 from ovarian cancer. Before she passed I vowed to her I would do everything I could to help turn Sealaska around, beginning with reducing Board spending.

I know my mother would be proud and happy that Sealaska has turned a corner. We are now performing better than ever in Sealaska's history! I am proud to be part of the team that helped bring us to where we are, with a very bright future and increasing benefits for shareholders.

I ask for your vote so that I may continue contributing to Sealaska's progress.

Thank you, Gunalcheésh, Háw'aa!
---
AGE: 55
CITY/STATE: Juneau, Alaska
OCCUPATION: Chief Executive Officer and General Manager, Inside Passage Electric Cooperative
CURRENT AND PREVIOUSLY HELD POSITIONS WITHIN SEALASKA CORPORATION AND/OR SEALASKA SUBSIDIARIES: Sealaska Director since 2006; board vice chair since 2016; chair of the Audit Committee; serves on the Compensation Committee, Finance Committee, and Governance­Nominations Committee; manager on the Sealaska Government Services, LLC Board of Managers; and an alternate representative on the Alaska Federation of Natives Board; former senior accountant at Sealaska Corporation and prior to that position, she was a Sealaska summer intern.
DIRECTORSHIP(S) HELD IN OTHER ENTITIES: Former chair and trustee of the Kootznoowoo Permanent Fund Settlement Trust; a director of the Kwaan Electric Transmission lntertie Cooperative; board of directors of Alaska Power Association.
EDUCATION: Bachelor of Science in business administration from the University of Oregon and holds the Certified Management Accountant designation from the Institute of Management Accountants.
AFFILIATIONS: Member of the Institute of Certified Management Accountants; member of the State of Alaska's Renewable Energy Fund Advisory Committee; member of the Energy Committee for Southeast Conference. Jodi is Tlingit/Raven, Deisheetaan (Beaver clan) and Dleit káa yádi (child of). Her Tlingit name is Tseiltin.