Dr. Angela Saa Doo ou Michaud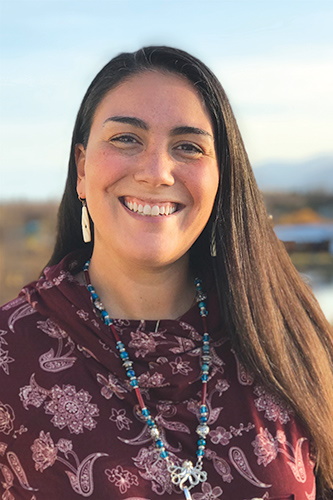 If elected, I will be the second shareholder descendant to join the Board. I am ready to help support Sealaska shareholders to financial, cultural, educational, and family wellness. I support Sealaska being financially independent with the ability to provide shareholders with an abundance of resources to help them live a happy and healthy life. I would like to see that we have immersion schools, our children are successful, graduate with honors, and are employable. I will support creating jobs and having them available for shareholder employment in a variety of areas of interest. Our shareholders are successful business owners and stimulate economic development. I will encourage new business ventures and help support them. I will see that we help support happy and healthy families who have homes, healthy food, and clean water. I am in support of having a highly sought-after tribal college. I will continue to support current and future generations to know and understand their culture and their family history. I will see that we continue to have cultural events and support our tribes.
I will help build true relationships with our shareholders. I will encourage use of technology to reach out to our shareholders in different ways, to hear their voices and to help where I am needed.
Read Angela's full candidate profile here!
---
AGE: 38
CITY/STATE: Anchorage, Alaska
OCCUPATION: Senior Director of Executive and Tribal Services, Southcentral Foundation; Clinic Director of Traditional Healing Clinic, Southcentral Foundation; Owner/Manager, Apartment Rentals
CURRENT AND PREVIOUSLY HELD POSITIONS WITHIN SEALASKA CORPORATION AND/OR SEALASKA SUBSIDIARIES: None
DIRECTORSHIP(S) HELD IN OTHER ENTITIES: Huna Heritage Foundation Board of Trustees, Cook Inlet Native Head Start Board of Directors
EDUCATION: Doctor of Chiropractic, Palmer College of Chiropractic; Bachelor of Science in exercise and sports science, Oregon State University; High School Diploma, Ketchikan High School
AFFILIATIONS: Alaska Chiropractic Society; American Chiropractic Association; Association of Alaska Native and American Indian Doctors of Chiropractic; International Chiropractic Pediatric Association; National Strength and Conditioning Association; Central Council of the Tlingit & Haida Indian Tribes of Alaska, Council Member, Anchorage; and Alaska Native Sisterhood. Angela's Tlingit name is Saa Doo ou after Dorothy Carteeti and she is Eagle, Chookaneidí (Bear clan). Angela's father is Raven, from the T'akdeintaan (Sea Pigeon clan) and grandparents are Pauline and John Hinchman.