Lisa Ka'illjuus Lang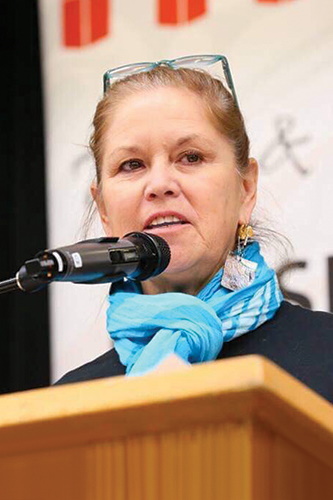 We stand at a profound intersection of time, facing extraordinary challenges none of us have ever experienced here in Alaska and beyond. With a cultural world view, I hope to become a part of the evolving Sealaska team who collectively creates balanced and innovative solutions for our region and our shareholders. The skills I would offer as a Sealaska Director draw upon my deep cultural values, education and personal commitment to strengthening our economic base.
My name is Lisa Lang. l am an attorney and a member in good standing with the New Mexico Bar Association since 2002. My background includes community economic development, language, culture and revitalization. Currently, I am director of the non-profit
Xaadas Kil Kuyaas
(XKKF) Foundation. I am an elected associate judge for Tlingit and Haida in Juneau, Alaska.
I have my Grandmother Helen Sanderson's Haida name. My mother was the late Carolyn Sanderson and my family originates from Hydaburg, Alaska. I am
Yahkw 'Laana
Clan, a Raven, Two Finned Killer Whale. A
Yahkw Janáas
or woman of the clan from the
Kaad Naay
(Shark House). My father was Gerald Osh Lang who was a Tsimshian Eagle from Metlakatla, Alaska, with Tsimshian and Tlingit roots from his mother Cora Lang-Booth.
Read Lisa's full candidate profile here!
---
AGE: 61
CITY/STATE: Hydaburg, Alaska
OCCUPATION: Executive Director, Xaadas Kil Kuyaas Foundation (XKKF); Owner of Minority Woman-Owned Business, Lisaverosh Consulting
CURRENT AND PREVIOUSLY HELD POSITIONS WITHIN SEALASKA CORPORATION AND/OR SEALASKA SUBSIDIARIES: Sealaska Intern
DIRECTORSHIP(S) HELD IN OTHER ENTITIES: Haida Corporation Board of Directors
EDUCATION: Master of Arts, Simon Fraser University; First Nations Linguistics, Xaad Kil; Juris Doctorate, University of New Mexico; Bachelor of Science in political science with a minor in business, Emporia State University, Kansas; Associate degree in liberal arts with business emphasis, Haskell Indian Junior College.
AFFILIATIONS: Hydaburg Cooperative Association (HCA or Tribe), Member; New Mexico Bar Association Member; Central Council of the Tlingit & Haida Indian Tribes of Alaska, Tribal Member, Elected Associate Judge. Lisa is Haida, Yahkw 'Laanas Clan, a Raven, Two Finned Killer Whale, from the K'aad Naay (Shark House). She is a child of a Tsimshian Eagle and a Tlingit from Metlakatla, Alaska. Her Haida name is Ka'illjuus.